How to order our product?
Firstly, you have to register as our member and then you can order to usby visit the site gowell.co.th You can apply as a member registration from the first page of each product.
Buy 2 get 1 free
(Remunerated piece(s) will be sent together with your purchased items)
1. Take the product into the cart
When you find the product that you want and then click "order" into the cart
2. How to manage the product list into the cart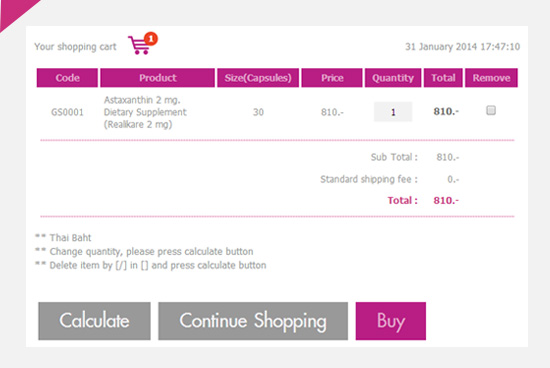 In the page of your order cart will present the list of product order, price and amount of product including the total price of your entire order cart. You can edit the order into the cart as following:
2.1 When you want to edit the amount of your order, you can fill the number that you want and then click "Recalculation" in order to calculate the right price of your order.
2.2 If you want to remove the product from the cart, you can click "delete" and then click "Recalculation".
2.3 If you want more product order, you can click "Additional order".
2.4 When you have finished your order and then you can click "Order" in order to purchase product. If you has not log in on system when you click "Order", our system will require you to fill your email and password as you ever registered previously. And then click "Log in" (in the case you never register as member before, you can apply the member by click at "Apply here"). When you already have signed in, you will see the face of web page that shows the list of your order including member information, points, and your history order.
3. How to specify the address for product delivery and how to payment?
3.1 Specification the address for product delivery, you can fill the address as you desire or can use the address from member information by tick on the

in the case use the address for delivery as member information.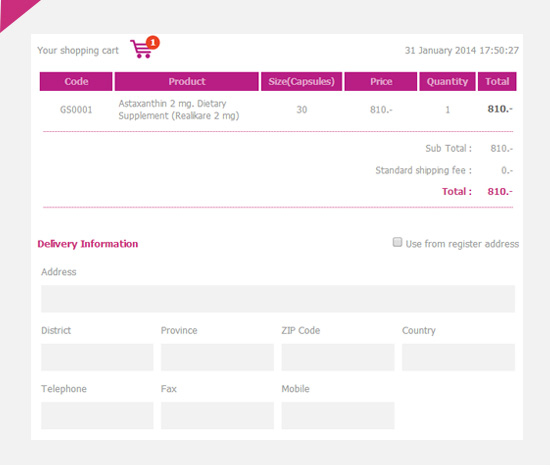 3.2 How to payment which there are 2 types of payment for choosing
+ Transfer money, which will tell the company account information.
+ Credit card, which will be online payment through Payment Gateway Banking system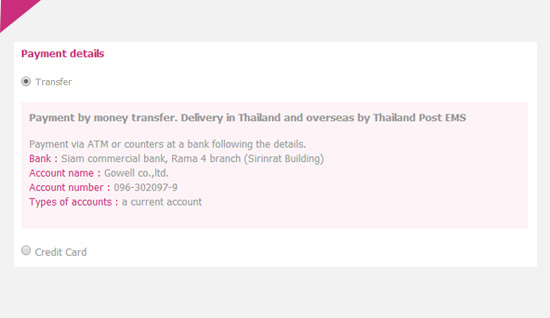 4. How to order product by Post (mail)
You can order and purchase by calling to us from our customer service staff at phone no. 02-3159133-36 or contact www.gowell.co.th
5. Payment
1. You can pay your order through ATM and Bank counter by money transferring as follow
Bank: The Siam Commercial Bank (SCB), Rama 4 branch (Sirinrat Building)
Account name: Gowell Co., Ltd.
Account no.: 096-302097-9
Type: Current account
2. Order product through Fax by fill information in Order form and then send the fax at number 02-3165399
3. Payment by credit card
6. Receiving the product by Parcel Post and delivery time
Parcel Post: Bangkok delivery about 1-2 days, Province (Up country) about 3-5 days. Or you can directly receive the product at Gowell Co., Ltd. on Monday-Friday (8.00 a.m.-5.00 p.m.)
7. Product delivery by Parcel Post
Purchase order Dietary Supplement Realikare® product at free charge of delivery
Remark:
+ Delivery only on Monday-Friday
+ Delivery for the order that already had completed payment
+ If have any query and additional information by call at phone no. 02-3159133-36